Nature Nanaimo is an organization formed in the fall of 2017 by a small group of dedicated volunteers. We now have approximately 120 members who share a love of nature and a desire to protect it.
Our mission is to foster an interest, appreciation and enjoyment of nature, and promote the conservation of healthy, natural ecosystems in the Nanaimo region.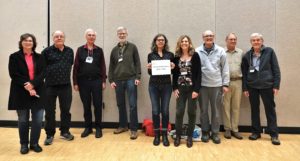 Board of Directors: The Board consists of the Executive and up to 10 additional Directors-at-Large, and meets monthly, except in December and July, to discuss and plan activities to keep the club functioning. Membership on the Board is limited to 6 consecutive years, but can be renewed after a one-year absence. The Board makes decisions regarding expenditures and activities on behalf of the membership, except where a vote by the membership at large is required, e.g., changes to the Constitution, etc. Board activities are recorded in minutes, which are available to members if requested.
Executive:  The Executive consists of 4 members: President, Vice-President, Secretary and Treasurer. Positions on the Executive are restricted to 2 year terms.
The Objectives of Nature Nanaimo are to:
foster and promote the enjoyment and understanding of nature;
study and protect local and regional flora and fauna and their habitats;
promote sustainable practices and stewardship of the natural environment,
work with other societies and groups having interests in common with this Club/Society, within and beyond the Province of British Columbia.
Revised: 6 Feb 2019
Email is our primary means of contact with members of Nature Nanaimo and the public at large. Therefore we have adopted specific privacy rules governing its use as follows.
Nature Nanaimo uses emails for three main purposes,
Group emails to members and non-members advertising coming events, appeals for donations etc. These emails are always BCC (blind copies) to maintain the privacy of individual recipients. They include an 'unsubscribe' option (*) so that the recipient can opt out of future such group emails at any time.
Emails to members only about Nature Nanaimo business. These emails are always BCC (blind copies) to maintain the privacy of individual recipients. There is no unsubscribe option.
Special Emails to members who serve on committees or who have signed up for specific activities or events. These are not sent BCC to facilitate communications between participants e.g. for committee business, ride-sharing, etc.
Our emailing contact lists of members are shared with BC Nature for their membership purposes.
Our emailing contact lists of members and non-members are not made available to third parties under any circumstances.
From time to time we take photographs of Nature Nanaimo club activities, meetings, field out-trips and projects. These pictures may be used for publicity, on our website, our social media platforms or elsewhere. Individuals are not identified by name without their specific permission.
Acceptance of this principle is considered to be a condition of attendance at those events. Anyone not wishing to be photographed is encouraged to move away from the scene or inform the photographer at the time.