On a sunny but slightly chilly morning, 15 Nature Nanaimo members gathered for a walk around the trails of Morrell Nature Sanctuary. Lance Nordstrom led us up the Tranquility trail towards Morrell Lake. A few minutes in a Barred Owl called its typical "Who cooks for you? Who cooks for you-all?" Shortly thereafter we heard an enthusiastic Pacific Wren's vigorous (and surprisingly loud for such a small bird) song. Other birds spotted included a group of Varied Thrush, a Song Sparrow and about 45 Mallards at the lake. Lance stopped to talk about the moss on a large Bigleaf Maple tree, and to look at a large Western Red Cedar. We chatted briefly about the "spirit stumps", which are Douglas-fir stumps that have mounted a wound response to cover the cut surface with bark, which they are able to do because of root grafts and mycorrhizal connections with living neighbours. We enjoyed the ducks for a while, then continued our walk on the upper Morrell lake trail and back on the lower trail. There we admired the oldest (and largest?) Douglas-fir tree in the Sanctuary, estimated at 600 years old or more.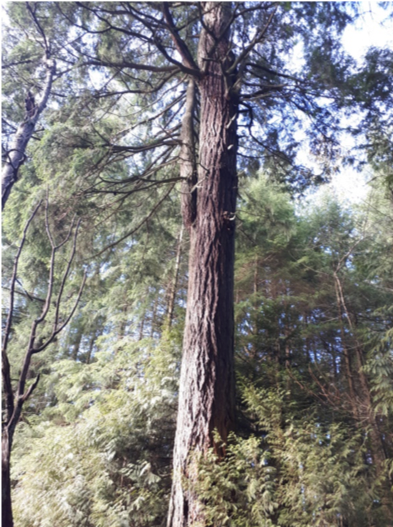 On the way back we went along the Rocky Knoll trail to the Beaver Pond viewing platforms. The pond has been devoid of beavers for some time, apparently.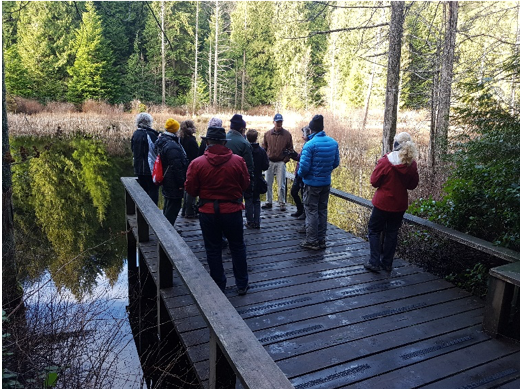 A little further down the trail we looked at some lichens, particularly an old stump with Lipstick and Pixie Cup lichens, both in the genus Cladonia. The odd Pacific Chorus Frog croaked in the bushes as we walked along, a Common Raven called, and a flock of Pine Siskins chattered in the canopy. We also stopped to look at how different tree species are distributed on a steep slope, with Western Red Cedar dominating the moist bottom and Douglas-fir the upper slope.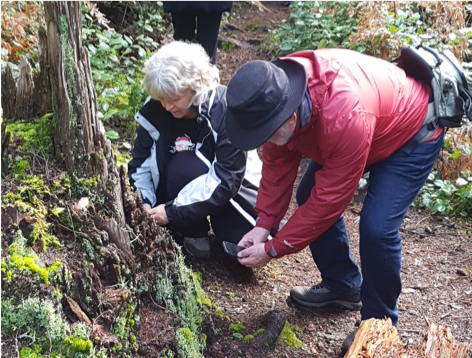 After the walk, many of us gathered at the Jingle Pot Pub for a post-ramble chat and lunch.