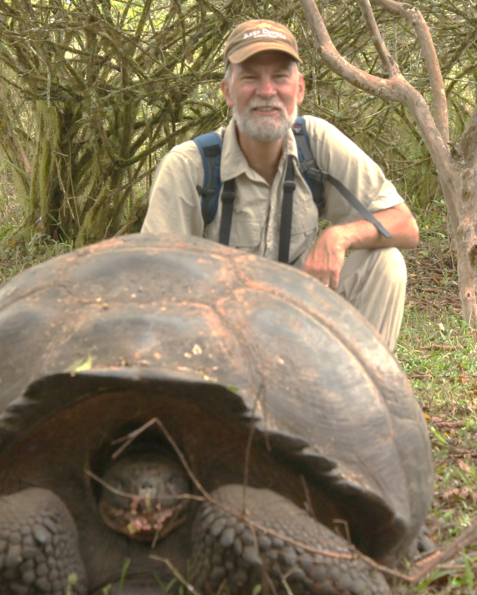 Doug is a retired high school biology teacher from northeastern Ontario and the current vice president of Nature 
Nanaimo. Before starting his teaching career, Doug studied Wildlife Biology at the University of Guelph and spent two years living at the Wildlife Research Station in Algonquin park where he worked on a moose research project for the Ontario Ministry of Natural Resources.
As an educator, Doug had the opportunity to accompany groups of students far and wide – studying rainforests and coral reefs in central America, the Amazon and New Zealand and Australia as well as studying climate change impacts in the Arctic as part of the 2008 Cape Farewell Expedition. Doug's passion for biodiversity and evolutionary biology has also inspired him to visit Darwin's home and organize group trips to the Galapagos islands.Doug has also co-authored 20 science textbooks for the provinces of Ontario, British Columbia, Alberta and Newfoundland and Labrador. Doug Fraser is passionate about environmental issues and promoting a better understanding of science and has been a regular speaker at science teacher conferences, having spoken on a wide range of topics from biodiversity and climate change to genetic engineering and science in society.
Doug and his wife Susan left the cold northern Ontario climate in 2015 to be closer to their two children and to enjoy the spectacular natural beauty of Vancouver Island with hummingbirds every day of the year! Doug is a nature lover and very concerned about our natural environment. When he isn't spending time hiking or taking nature photos Doug is busy in the garden. Doug also teaches courses as part of the VIU Elder College program.
Allan Hawryzki — Vice President
Allan was born in Vancouver where he attended Simon Fraser University after graduation from high school and where is obtained his undergraduate degree in biology.  He worked there for three summers as a botanical research assistant studying the geographical distribution and evolutionary biosystematics (taxonomy) of Ranunculus  eschscholtzii (subalpine buttercup)in western North America.  While studying this species and visiting various populations in British Columbia, Alaska, Yukon, Alberta and various western American states he enhanced his interest in the outdoors and natural world.  His graduate work at the University of Victoria centred on the Conservation Biology of Allium amplectens (slim-leaf onion).  Until retirement he has taught courses at Vancouver Island University (formerly Malaspina College) in introductory biology, botany, education, biodiversity, conservation biology and taxonomy.
He was also a founding executive member of the original Nanaimo Natural History club and regional Vice-President (Vancouver Island) of the Federation of B.C. Naturalists. Amongst the projects he coordinated during the 1970s was a successful campaign to increase public awareness of and funding for the conservation of the Vancouver Island Marmot.
He has served as a member on the City of Nanaimo, Advisory Committee on the Environment, and 'Inspire Nanaimo' (sponsored by the City of Nanaimo, Vancouver Island Univerisity, and the Nanaimo Chamber of Commerce).  He is also a former Director of the Nanaimo and Area Land Trust.
Michael Stebbings — Secretary

Michael has experience in management and financial operations.He has been active in non-profit societies and performing arts organisations in the Nanaimo region, on boards, as the technical resource, producing and stage managing performing arts shows for over 2 decades. He was Board Treasurer for Nanaimo Conservatory of Music, for TheatreOne, Nanaimo's professional theatre company, and for the Federation of Canadian Artists, Nanaimo Branch, He was founder and board member of the Opera Nanaimo Society and board member responsible for communications of the BC Project Management Institute in Vancouver. He was Project Manager and then Building Manager for the Port Theatre Society. An avid gardener and amateur birder he is somewhat of a neophyte among such knowledgeable naturalists.
Paul Courtin —  Treasurer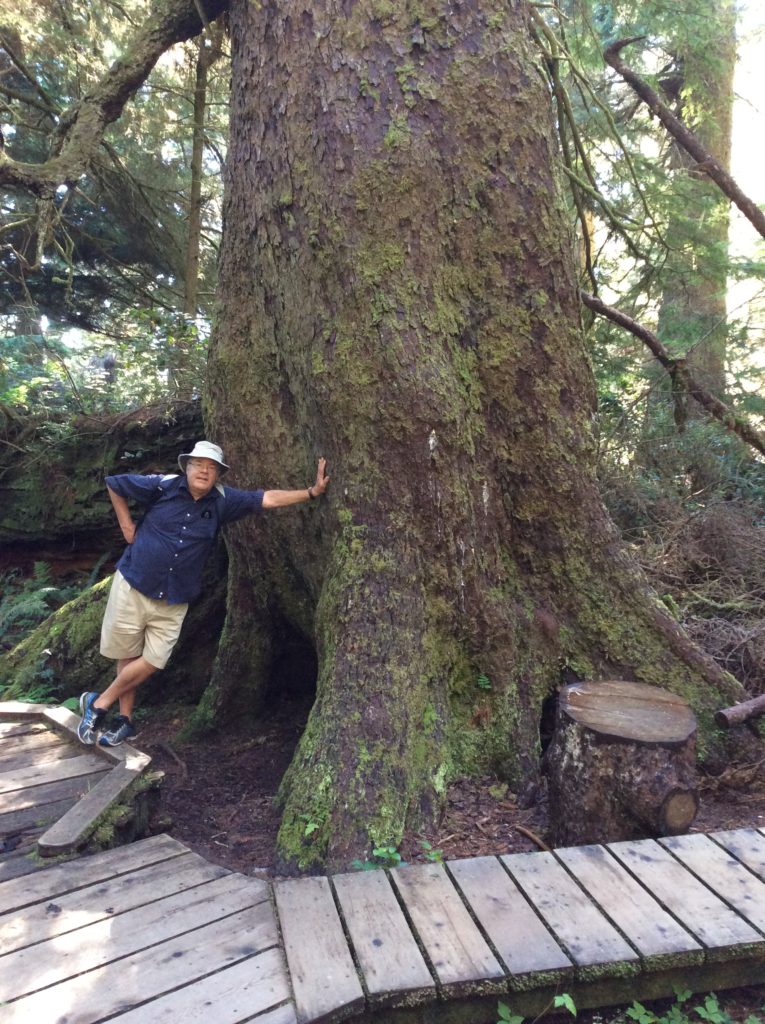 Paul studied forestry at UBC and worked for over 30 years as a forest researcher specializing in forest soils and hardwood management.
Now retired, his interest in forest ecology is still keen but more relaxed; he enjoys casual walks in the forest "just looking around". He looks forward to furthering his identification skills in other areas of biology, as members of the club contribute their knowledge.
After having lived in the US and Europe, he and Nuria moved to BC and felt at home immediately. They feel very grateful to live in a relatively unspoiled part of the world. They have two sons and one grandson ( 2 1/2 years old) who has a sibling on the way!
Photo: Paul standing against a giant Sitka spruce, Pacific Rim National Park.
Staffan Lindgren — Director-at-Large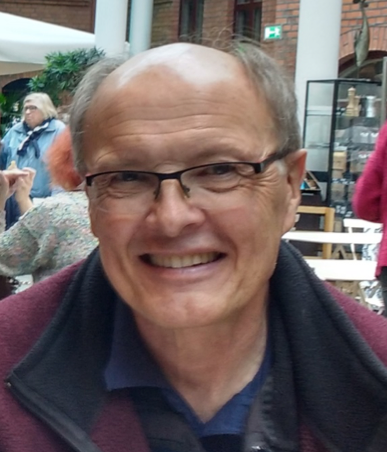 Staffan was born in Norrköping in southeastern Sweden, and it was there he developed his interest in nature. At age 11, his family moved to Piteå, a small town on the Gulf of Bothnia coast in northern Sweden known to some as the birthplace of Daniel Solander, one of Carl Linnaeus' disciples, and famous (particularly to New Zealanders and Australians) as the naturalist on Captain Cook's first voyage. Staffan went to university at Umeå University 210 km south of his hometown, and finished his Fil.Kand (B.Sc.) at Uppsala University. After a few years as a failed PhD student in endocrinology back in Umeå, he got the opportunity to go to Canada, where he completed a Master of Pest Management (MPM) and Ph.D. under the supervision of Dr. John Borden. The courage to go off on his own was in large part because of a year spent in Lake Odessa, Michigan, as a high school exchange student. After a short stint as a post-doctoral fellow at UBC, he became Research Director of a fledgling pest management company in Delta, BC, where he stayed for 10 years before getting the opportunity of his life in 1994. From mid-1994 until the end of 2015 Staffan was a Professor at the University of Northern British Columbia, in the Spruce Capital Prince George. He is now Professor Emeritus at UNBC living with his wife of 30+ years in Nanaimo, BC.
Staffan's interests are very broad, including pretty much any life form, but by profession he is an entomologist with particular interest in forest entomology, biodiversity, and plant insect interaction. He is perhaps best known for the invention of the so-called "Lindgren funnel trap", which is extensively used in forest entomology in North America. Recreationally, Staffan spends his time bird watching, photographing animals, kayaking and flyfishing (although the latter has suffered a bit lately). You can find more information by following him on ResearchGate or Twitter (@bslindgren). His blogs on entomology occur mostly at the Entomological Society of Canada blog site, and there are some blogs from his time caring for the UNBC Reef Tank (since his retirement called the B. Staffan Lindgren Reef Tank courtesy of his dear colleagues at UNBC). You can also see some of Staffan's photographs on Flickr. But blogs about most things of interest to him will be posted here.
Lance Nordstrom — Director-at-Large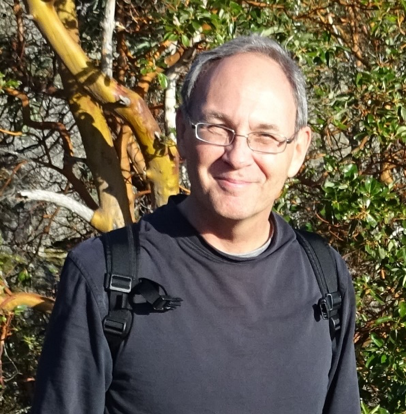 Lance studied ecology at UBC, biogeography at York University, and science librarianship at the University of Alberta. Certified as an ecologist by the Ecological Society of America, he was involved in field studies investigating the mineral element composition of plants inhabiting old-field ecosystems, the population dynamics of small mammals, wildlife damage to tree seedlings, and the impacts of cattle grazing on forested rangelands. He has written several journal articles and technical reports, including The Ecology and Management of Forest Range in British Columbia (BC Ministry of Forests Land Management Report No. 19) and An Annotated Bibliography on Forest-Range Ecosystems in the Pacific Northwest (Land Management Report No. 38). He later worked as a research librarian at the Tyrrell Museum of Palaeontology, the Alberta Environmental Centre, the Alberta Research Council, and the occupational and environmental health and safety library at WorkSafeBC. Now retired, he also serves on the board of directors for the Morrell Sanctuary Society for Environmental Education and is a co-author of The Morrell Nature Sanctuary Guidebook.
Lindsay Dealy — Director-at-Large

Lindsay was born and raised on Vancouver Island. She completed her undergraduate studies at UVic in 2015, finishing with a co-op term at the Pacific Biological Station in Nanaimo. Since then she has done a variety of fieldwork involving surveys on Coast Guard Fisheries Research Vessels (e.g. juvenile salmon, shrimps, prawns) as well as invasive species surveys (green crab and tunicates). She has also had the opportunity to study COSEWIC-listed species including the Cowichan lamprey, and most recently, eulachon. Involvement with a nature group in Nanaimo appealed to Lindsay as she believes that science communication and public engagement are incredibly important. She's new to the world of websites – so your feedback is appreciated!
Sari Saunders — Director-at-Large
Sari grew up on the West Coast but headed to Queen's to study biology as an undergrad, before returning to do her Master's in Resource and Environmental Management at Simon Fraser. She studied Forest Science, specializing in landscape ecology, at Michigan Tech U for her Ph.D., and has studied and worked as a forest ecologist and avian biologist in British Columbia, Ontario, the US Midwest, and Alaska.  She is currently the Research Section Head (Research Ecology) for the Coast with the BC Ministry of Forests, Lands, Natural Resource Operations, and Rural Development Columbia, where she works with an interdisciplinary group of scientists who do field-based research and consulting with Ministry, industry, and academic colleagues to support stewardship and land management from Haida Gwaii to Victoria. 
Sari is delighted to be a part of the revitalization of a local natural history club in Nanaimo.  She was previously involved in the Juneau Audubon Society, Kingston Field Naturalists, and Vancouver Natural History Society, and has found sharing a fascination of nature and interest in stewardship to be a rewarding and fun ways to meet excellent people and build a sense of belonging within a community.
Karen MacDowell — Director-at-Large
Dan Haslam — Director-at-Large
Carole Lee — Director-at-Large