Staffan Lindgren — President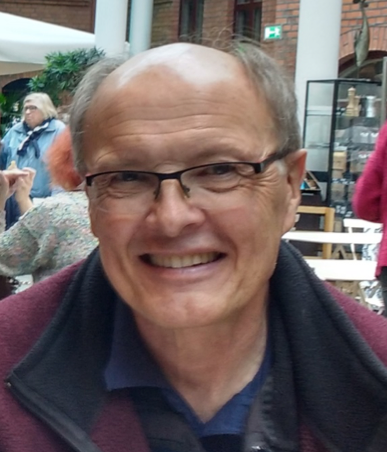 Staffan was born in Norrköping in southeastern Sweden, and it was there he developed his interest in nature. At age 11, his family moved to Piteå, a small town on the Gulf of Bothnia coast in northern Sweden known to some as the birthplace of Daniel Solander, one of Carl Linnaeus' disciples, and famous (particularly to New Zealanders and Australians) as the naturalist on Captain Cook's first voyage. Staffan went to university at Umeå University 210 km south of his hometown, and finished his Fil.Kand (B.Sc.) at Uppsala University. After a few years as a failed PhD student in endocrinology back in Umeå, he got the opportunity to go to Canada, where he completed a Master of Pest Management (MPM) and Ph.D. under the supervision of Dr. John Borden. The courage to go off on his own was in large part because of a year spent in Lake Odessa, Michigan, as a high school exchange student. After a short stint as a post-doctoral fellow at UBC, he became Research Director of a fledgling pest management company in Delta, BC, where he stayed for 10 years before getting the opportunity of his life in 1994. From mid-1994 until the end of 2015 Staffan was a Professor at the University of Northern British Columbia, in the Spruce Capital Prince George. He is now Professor Emeritus at UNBC living with his wife of 30+ years in Nanaimo, BC.
Staffan's interests are very broad, including pretty much any life form, but by profession he is an entomologist with particular interest in forest entomology, biodiversity, and plant insect interaction. He is perhaps best known for the invention of the so-called "Lindgren funnel trap", which is extensively used in forest entomology in North America. Recreationally, Staffan spends his time bird watching, photographing animals, kayaking and flyfishing (although the latter has suffered a bit lately). You can find more information by following him on ResearchGate or Twitter (@bslindgren). His blogs on entomology occur mostly at the Entomological Society of Canada blog site, and there are some blogs from his time caring for the UNBC Reef Tank (since his retirement called the B. Staffan Lindgren Reef Tank courtesy of his dear colleagues at UNBC). You can also see some of Staffan's photographs on Flickr. But blogs about most things of interest to him will be posted here.
Doug Fraser — Vice President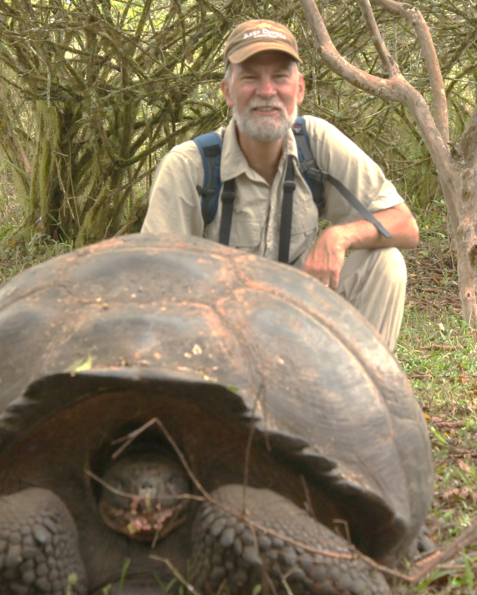 Doug is a retired high school biology teacher from northeastern Ontario and the current vice president of Nature 
Nanaimo. Before starting his teaching career, Doug studied Wildlife Biology at the University of Guelph and spent two years living at the Wildlife Research Station in Algonquin park where he worked on a moose research project for the Ontario Ministry of Natural Resources.
As an educator, Doug had the opportunity to accompany groups of students far and wide – studying rainforests and coral reefs in central America, the Amazon and New Zealand and Australia as well as studying climate change impacts in the Arctic as part of the 2008 Cape Farewell Expedition. Doug's passion for biodiversity and evolutionary biology has also inspired him to visit Darwin's home and organize group trips to the Galapagos islands.
Doug has also co-authored 20 science textbooks for the provinces of Ontario, British Columbia, Alberta and Newfoundland and Labrador. Doug Fraser is passionate about environmental issues and promoting a better understanding of science and has been a regular speaker at science teacher conferences, having spoken on a wide range of topics from biodiversity and climate change to genetic engineering and science in society.
Doug and his wife Susan left the cold northern Ontario climate in 2015 to be closer to their two children and to enjoy the spectacular natural beauty of Vancouver Island with hummingbirds every day of the year! Doug is a nature lover and very concerned about our natural environment. When he isn't spending time hiking or taking nature photos Doug is busy in the garden. Doug also teaches courses as part of the VIU Elder College program.
Mike McCall — Newsletter Editor

Mike saw the light of day and was schooled in Simcoe, ON first and subsequently in Toronto at Malvern Collegiate and the (then) Ryerson Institute of Technology.
He joined Royal Canadian Navy which needed pilots for its aircraft carrier "Magnificent" and trained as a naval aviator in Canada (RCAF) and the UK with the Royal Navy. He flew from HMCS "Magnificent" and HMCS "Bonaventure" during the Cold War, and after several years of this, instructed instrument flying in twin engine aircraft. Mike subsequently flew helicopters, particularly the Sikorsky S-55 and the Sea King in both of which he flew Search and Rescue missions from the carrier,  "Bonaventure" and from the navy's air base at Shearwater near Halifax. After Staff College in Toronto Mike served at Naval Headquarters, Ottawa in the Personnel Branch followed by 4 years in NATO HQ, Brussels as Canadian Representative to Supreme Headquarters Allied Forces Europe. On return to Canada served as a surface officer in HMCS St. Laurent, HMCS Kootenay and HMCS Cape Scott. With some regret, Mike resigned on the amalgamation of the Canadian Forces in the rank of Commander.
While in Ottawa and at NATO Mike renewed the cycling activities he'd pursued prior to joining the navy, re-started the Ottawa Bicycle Club which had been dormant for many years, organized bike races in and around the Nation's Capital and did a lot of bicycle touring in Canada and Europe. He continues to cycle in Nanaimo but at his age the hills do pose a challenge.
Seneca College, Toronto hired Mike as Director of the Canadian Forces Community College Program, a learning opportunity which brought post-secondary education to military personnel using Distance Education technologies pioneered at Seneca and at Learning Centres they established at CF Bases. With the program well established, Mike handed it off and subsequently joined Indal Technologies, Mississauga a company specializing in helicopter ship landing systems as Marketing Director and Program Manager, Product Development. On retirement from Indal, which had been bought by a British company, he worked under contract, organizing and administering Purchasing and Management Councils for Caradon plc which needed to rationalize purchasing and manufacturing operations in its 23 North American companies.
Mike and his wife wanted to homestead so they bought a 95 acre woodlot in Nova Scotia on the Fundy Shore near Halls Harbour. They built a house and outbuildings and with a lot of earth moving turned a neglected property into their version of paradise. While there Mike resumed his early interest in birds and other animals and became a member of the Wolfville based Blomidon Naturalists. Mike was actively involved in this group as a Director and Vice President and as editor of the society's newsletter. Eventually, Nova Scotian winters prompted them to move and family considerations brought them to B.C. and Nanaimo.
Michael Stebbings — Executive Director /  Club Representative

Michael has experience in management and financial operations.He has been active in non-profit societies and performing arts organisations in the Nanaimo region, on boards, as the technical resource, producing and stage managing performing arts shows for over 2 decades. He was Board Treasurer for Nanaimo Conservatory of Music, for TheatreOne, Nanaimo's professional theatre company, and for the Federation of Canadian Artists, Nanaimo Branch, He was founder and board member of the Opera Nanaimo Society and board member responsible for communications of the BC Project Management Institute in Vancouver.
He was Project Manager and then Building Manager for the Port Theatre Society.
An avid gardener and amateur birder he is somewhat of a neophyte among such knowledgeable naturalists.
Lance Nordstrom — Membership Director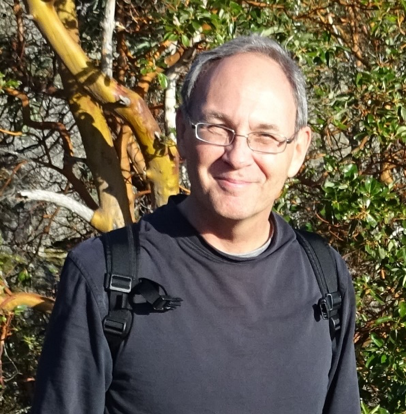 Lance studied ecology at UBC, biogeography at York University, and science librarianship at the University of Alberta. Certified as an ecologist by the Ecological Society of America, he was involved in field studies investigating the mineral element composition of plants inhabiting old-field ecosystems, the population dynamics of small mammals, wildlife damage to tree seedlings, and the impacts of cattle grazing on forested rangelands. He has written several journal articles and technical reports, including The Ecology and Management of Forest Range in British Columbia (BC Ministry of Forests Land Management Report No. 19) and An Annotated Bibliography on Forest-Range Ecosystems in the Pacific Northwest (Land Management Report No. 38). He later worked as a research librarian at the Tyrrell Museum of Palaeontology, the Alberta Environmental Centre, the Alberta Research Council, and the occupational and environmental health and safety library at WorkSafeBC. Now retired, he also serves on the board of directors for the Morrell Sanctuary Society for Environmental Education and is a co-author of The Morrell Nature Sanctuary Guidebook.
Lindsay Dealy — Webmaster

Lindsay was born and raised on Vancouver Island. She completed her undergraduate studies at UVic in 2015, finishing with a co-op term at the Pacific Biological Station in Nanaimo. Since then she has done a variety of fieldwork involving surveys on Coast Guard Fisheries Research Vessels (e.g. juvenile salmon, shrimps, prawns) as well as invasive species surveys (green crab and tunicates). She has also had the opportunity to study COSEWIC-listed species including the Cowichan lamprey, and most recently, eulachon. Involvement with a nature group in Nanaimo appealed to Lindsay as she believes that science communication and public engagement are incredibly important. She's new to the world of websites – so your feedback is appreciated!
Paul Courtin —  Treasurer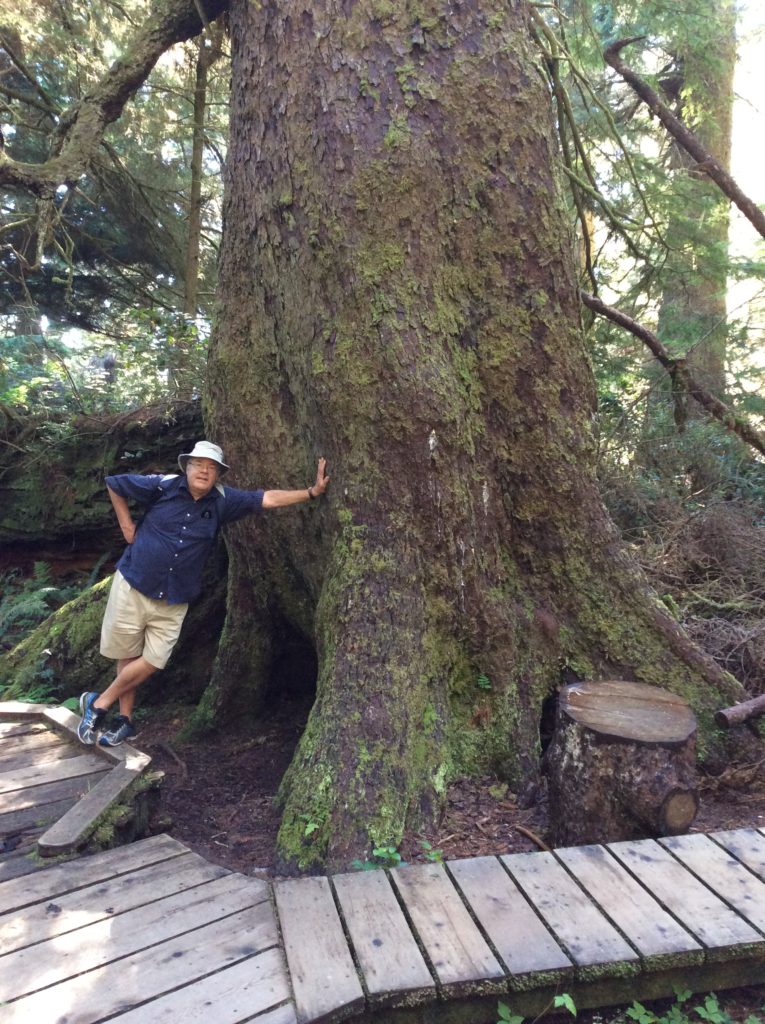 Paul studied forestry at UBC and worked for over 30 years as a forest researcher specializing in forest soils and hardwood management.
Now retired, his interest in forest ecology is still keen but more relaxed; he enjoys casual walks in the forest "just looking around". He looks forward to furthering his identification skills in other areas of biology, as members of the club contribute their knowledge.
After having lived in the US and Europe, he and Nuria moved to BC and felt at home immediately. They feel very grateful to live in a relatively unspoiled part of the world. They have two sons and one grandson ( 2 1/2 years old) who has a sibling on the way!
Photo: Paul standing against a giant Sitka spruce, Pacific Rim National Park.
Jim Smith —  Secretary
Jim was born in Bralorne, in the BC interior, but spent his school years and working career primarily in Winnipeg. He is a professional engineer and his career largely involved working on water resource projects throughout Canada, Asia and Africa. He has expertise in technical design issues, including environmental engineering, as well as project management and cost and risk analyses.
Jim has enjoyed being out in the natural environment all his life, whether it be on canoe camping trips, sailing, cross country skiing, hiking or cycling.
 He retired to Nanaimo in 2011 with his wife Heather. They both enjoy and appreciate the beautiful natural environment in this part of the world and have spent many a day involved in photography, hiking, general exploring of the island and volunteering with local organizations. They also both enjoy gardening, theatre, music and travel abroad, to continue learning of the customs and the flora and fauna of other lands. Their son and spouse live in Victoria while their daughter and husband still reside in Winnipeg, but yearn to move to the coast.